LANDSCAPING MATERIALS

We stock a large range of village landscaping materials and other Lemax accessories.
It is not practical to show all of them on this site, but here are just a few of our most popular items.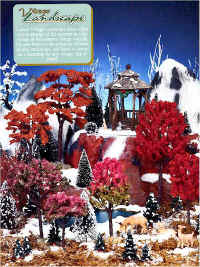 Lemax Village landscape
These items allow you to change the seasons within your village
as the seasons change outside.
Choose from a wide selection of trees, shrubs, backdrops and platforms
to suit any scene.

*** PLEASE NOTE ***
Not all available stock items are shown here & pictures are not to scale
Please also check our Lemax PRICELIST for complete list
Click on images for a better view
---
---
---
---
---
---
---
---
This page was last modified on 18th May, 2018