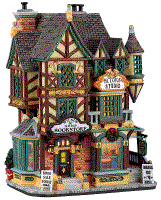 The hobby of miniature village collecting continues to grow rapidly and has extended far beyond the Christmas season to become a 'year round' passion.
After nearly 20 years, Lemax is at the forefront of the rapidly expanding phenomenon of lighted villages, providing collectors from around the globe with an affordable way to create special memories, fun and fulfilment in decorating their homes with their own Lemax Village.
The Christmas Shop selection of enchanting lighted houses, figurines and accessories is now more exciting than ever. We've also extended our range of landscaping and battery-operated items which have become so important to collectors.
Choose from the mystical wonder and glitter of Santa's Wonderland, the olde world charm of Caddington Village, the rustic appeal of Harvest Crossing, retreat to a skier's paradise in Vail Village or give your home a nautical feel with Plymouth Corners.
Spooky Town is loads of fun for Halloween lovers.
Immerse yourself in these tiny towns and you will see Christmas once again through the eyes of a child. With the help of Lemax and The Christmas Shop, and your own imagination, discover the magic as your little town comes to life.
RETIRED PIECES: If you are lucky enough to own any of these pieces, hold on to them as they become sought-after items and are therefore more valuable once retired. Some of these items may still be available from our store, so please feel free to contact us.