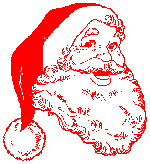 About
292-296 Rocky Point Road, RAMSGATE 2217 NSW Australia
Phone - (612) 9529 2512

A store of wonder for all who believe . . .
Experience the true meaning & magic of Christmas once again
We are a family-run specialty retail store with over 10,000 different Christmas line items and many hundreds of trimmings, ornaments and gifts for other family celebrations & occasions -
Easter, Mother's Day, Father's Day, Halloween, birthdays, weddings, etc.
We aim to continually change and expand our product range, selecting from more than 250 Australian & overseas suppliers. We are seriously committed to selecting and supplying festive ornaments, decorations and gifts that are not readily available elsewhere in Australia. At present, we don't have a complete on-line catalogue, an electronic ordering facility or a mail-out catalogue but would be really pleased to provide more details and mail any items selected if you wish to contact us
OLD SHOP
at South Hurstville


NEW SHOP
at Ramsgate

" Let there be peace on earth . . . and let it begin with ME ! "
Annalee Mobilitee figures ~ details ~

Bearington Bears

Boyds Bears

Byers' Choice -
carollers & figurines ~ details ~

Cherished Teddies

Crisalis figurines

David Winter Cottages

Department 56 Snow Babies

Disney Traditions by Jim Shore

Disney Showcase Collection

Disney Showcase Collection -
Grand Jester

Fontanini Nativities ~ details ~

Foundations angels & figurines

Gotz dolls

Heartwood Creek by Jim Shore

Hummel

Jan McLean Original dolls

Kate Finn dolls

Katherine Collection

Lilliput Lane Christmas cottages

Leonardo / Crisalis Collection

Lemax -
lit villages & accessories ~ details ~

Lladro Christmas figurines

Mid West range ~ details ~

Mister Christmas -
animations & musicals

Old World Santas

Paola Rena dolls

Polish baubles - Hand-painted

Possible Dreams
Clothtique Santas & Carolers ~ details ~

Precious Moments

Priscilla Hillman's Mouse Tales /
Petticoat Lane figurines

Rosemary Volpi dolls

The Elf on the Shelf

The Heart of Christmas

The Jacqueline Kent Collection -
dolls ~ details ~

The Xenis Collection -
dolls ~ details ~

Thun ornaments

Willow Tree sculptures ~ details ~

Click on images for a closer look
White pearlised baubles (glass, 80mm - front & back shown)

Jolly Santa - hanging or free-standing (plastic, 120mm) - often used as a table placecard

Rocking horses - hanging (wooden, 100mm - NOT shown)

Teddy sitting on red bauble - hanging (plastic bauble: 80mm & teddy: 40mm high)

Angels - tree-top & free-standing

Baby's First Christmas items

Bon-bons / Crackers

Brass Christmas bells & hangings

Christmas jewellery -
brooches / ear-rings / pins

Mary Engelbreit ornaments

Pewter items

Portmeiron & Royal Worchester
table service

RAZ products

Santa figures

Santa hats, suits, beards & wigs

Silverware

Stockings & stocking hangers

Table decorations & trimmings

Teacher presents

Thimbles

Topiary trees

Trees - artificial
floor-standing / table

Tree skirts & stands

Tree-tops / stars

Water globes

Wooden Nativities
(hand-crafted in Bethlehem)
. . . and still more . . . . . BACK TO TOP

WE PRIDE OURSELVES ON OUR CUSTOMER SERVICE
AND WELCOME ANY SPECIAL REQUESTS

The Christmas Shop lady - Lyn Herbert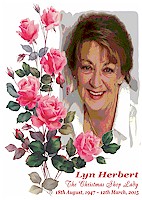 Believe . . . as a child believes . . . . .
. . . and the magic will find you !
Thanks for visiting us .....
please come again soon !!!

or phone us on
02 9529 2512
This page was last modified 16th September, 2016